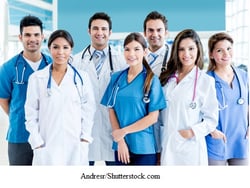 Becker's Hospital Review has published an article by MKA Executive Planners Senior Vice President Dennis Sexton and President and CEO Barry Koslow focused on the challenges faced by physician practices and Physician-Hospital Organizations in adapting physician compensation to the new world order of pay-for-performance, quality contracting and global payments.
"Healthcare's so-called Triple Aim is under triple threat. Physician turnover, the migration of risk, and a looming shortage of primary care providers present formidable challenges to the key performance goals of improving population health, enhancing the care experience and reducing the per-capita cost," they write.
Click here to read the full article on the Becker's Hospital Review website.
Securities offered through Advisory Group Equity Services, Ltd., Member FINRA/SIPC. 444 Washington Street, Woburn, MA 01801 (781) 933-6100.
This article should not be considered as providing accounting, business, financial, investment, legal, tax, or other professional advice or services. It is not a substitute for such professional advice or services, nor should it be used as the basis for any decisions or actions that may affect your business or you personally. This should only be one part of your research. You should seek authoritative guidance from a qualified accountant or attorney before taking any action.
© MKA Executive Planners, 12 Gill Street, Suite 5600, Woburn, MA 01801 800-332-2115