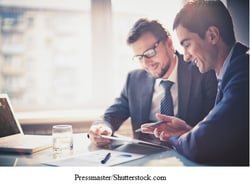 MKA Executive Planners President and CEO Barry Koslow discussed new approaches to supplemental retirement plans at a recent nonprofit executive compensation workshop hosted by the New York Society of Association Executives (NYSAE).
"Supplemental retirement plans offer a new way to the five Rs: Recruiting, Retaining, Refocusing, Rewarding and Retirement," Koslow told the group of CEOs and COOs of non-for-profit organizations who attended the event.
Koslow discussed new approaches to supplemental retirement plans for key executives that differ from traditional IRC 409A, 457(b) and 457(f) plans. These plans require less disclosure and balance sheet impact. In addition, he covered traditional deferred compensation approaches and their advantages and disadvantages.
The NYSAE's Non Profit CEO Forum, co-hosted with the BBB Foundation of Metropolitan New York, was held on December 8 at the Princeton Club in New York City.
Please click here for a recap of the event.
Securities offered through Advisory Group Equity Services, Ltd., Member FINRA/SIPC. 444 Washington Street, Woburn, MA 01801 (781) 933-6100.
This article should not be considered as providing accounting, business, financial, investment, legal, tax, or other professional advice or services. It is not a substitute for such professional advice or services, nor should it be used as the basis for any decisions or actions that may affect your business or you personally. This should only be one part of your research. You should seek authoritative guidance from a qualified accountant or attorney before taking any action.
© MKA Executive Planners, 12 Gill Street, Suite 5600, Woburn, MA 01801 800-332-2115