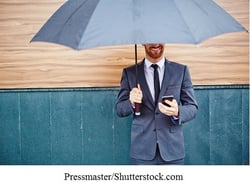 "What?", you say. Yes, there are many significant risks out there, and you buy commercial insurance to absorb them. Autos, homes and other property are insured. You have liability insurance. You have medical insurance. You have dental insurance – and maybe life insurance. But, actually, you hold all those risks. You have chosen to "reinsure" them in full or in part with a business that specializes in covering unaffordable risk. You get to pick the maximum amounts payable and deductibles, absorbing the affordable exposures that you did not cover.
Here are a few you might not have thought of, and, most likely, you are self-insuring the total or at least the lion's share of the risk. Most have not considered what would happen if an accident or sickness caused them to be out of work for a significant period… or permanently.
Income Replacement – You need to pay the mortgage, rent, utilities, etc. And, what about kids' college, retirement, etc.?
Business Overhead Protection – If you are a key administrator, sales person, engineer, etc., how is the business going to cover the expense of replacing you in addition to the usual expenses attributed to your day to day work activity if you become disabled?
Business Loan Protection – Do you have a monthly note payment that could raise havoc if you were not able to bring in your regular revenue? Protection can be designed to make note payments while you are disabled, even if the business is sold – making the coverage valuable in pricing a sale.
Loss of Value – If you are a key cog in the profitability and marketability of your company, you can insure that if a disability causes a loss in value, the insurer will step in and fill all or a part of the void. It is much like a professional athlete losing personal value due to an injury by coming in below the anticipated draft position and earning a lower salary.
The market for these coverages is limited and expertise is needed to find the right carrier with the right coverage at the right price. MKA has been at the forefront of disability protection planning since 1970, including principals who have extensive experience in product design, compliance and distribution.
For further information contact Barry N. Koslow, CEO at 781-939-6050 (O), 781-724-6695 (M) or bkoslow@mkaplanners.com; or Dennis Sexton at 781-939-6060 (O), 978-395-6741 (M) or dsexton@mkaplanners.com.
Securities offered through Advisory Group Equity Services, Ltd., Member FINRA/SIPC. 444 Washington Street, Suite 407, Woburn, MA 01801 (781)933-6100. Advisory services offered by Trust Advisory Group, Ltd., a Registered Investment Advisor.
This article should not be considered as providing accounting, business, financial, investment, legal, tax, or other professional advice or services. It is not a substitute for such professional advice or services, nor should it be used as the basis for any decisions or actions that may affect your business or you personally. This should only be one part of your research. You should seek authoritative guidance from a qualified accountant or attorney before taking any action.
© MKA Executive Planners, 12 Gill Street, Suite 5600, Woburn, MA 01801 800-332-2115