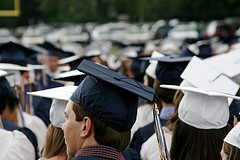 CommonWealth magazine recently posted an opinion piece by Barry Koslow that focuses on executive compensation for leaders of private colleges and universities. The article begins:
Private colleges and universities – and the board members and presidents who lead them – must recognize that they operate within a new age of transparency and disclosure of executive compensation policies. The days of quiet side deals, of surreptitiously padding the paychecks of presidents through the creative use of footnotes or financial gymnastics, are over. The pay packages at institutions of higher learning, whether they represent base salaries, bonuses, deferred retirement compensation, or all of the above and more, eventually will see the light of day.
Click here to read the full article at CommonWealth magazine's website.
Securities offered through Advisory Group Equity Services, Ltd., Member FINRA/SIPC. 444 Washington Street, Woburn, MA 01801 (781) 933-6100.
This article should not be considered as providing accounting, business, financial, investment, legal, tax, or other professional advice or services. It is not a substitute for such professional advice or services, nor should it be used as the basis for any decisions or actions that may affect your business or you personally. This should only be one part of your research. You should seek authoritative guidance from a qualified accountant or attorney before taking any action.
© MKA Executive Planners, 12 Gill Street, Suite 5600, Woburn, MA 01801 800-332-2115
photo credit:
jessiejacobson
via
photopin
cc