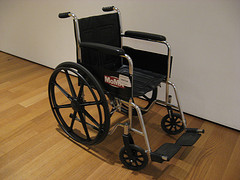 You're on your way. Your company recently completed a round of serious financing from a major hedge fund and several significant individual investors. Management has been beefed up so that the "idea gal" can focus on what she does best -- building the greatest and newest health gizmo, one that will improve outcomes and reduce costs.
Then, disaster strikes: your key player is in an auto accident and it looks like she won't be able to return to work…ever. You purchased life insurance on her for the company, but did nothing about unforeseen catastrophic and long term disability. She has no source of income, and, as bad, the Company has no one who can continue the process and no way to recoup the financing, leaving the hedge fund and investors out in the cold.
Here's the backstory: the disabled scientist was also an investor, living primarily on savings and the modest salary from teaching a few classes at a local university. She was expecting $25 million in a short time from the sale of her stock in the Company once the regulators had approved her invention. In addition, the hedge fund and investors were expecting $100 million back from their investment.
What should they have done?
At MKA Executive Planners, we have over 40 years' experience in developing and designing contracts that insure exceptional risks in the event of disability. Subject to underwriting, we can provide coverage for large amounts ($100 million and more) in the event of a severe disability. This coverage can protect against key players' loss of potential earnings and investors against loss of their investment.
The program is tailored to the needs and risks of the organization and its key personnel.
For further information contact: Barry Koslow at bkoslow@mkaplanners.com -- 781-939-6050 or John Yagjian at jyagjian@mkaplanners.com -- 781-939-6090.
Securities offered through Advisory Group Equity Services, Ltd., Member FINRA/SIPC. 444 Washington Street, Woburn, MA 01801 (781) 933-6100.
This article should not be considered as providing accounting, business, financial, investment, legal, tax, or other professional advice or services. It is not a substitute for such professional advice or services, nor should it be used as the basis for any decisions or actions that may affect your business or you personally. This should only be one part of your research. You should seek authoritative guidance from a qualified accountant or attorney before taking any action.
© MKA Executive Planners, 12 Gill Street, Suite 5600, Woburn, MA 01801 800-332-2115
photo credit:
Jeni Rodger
via
photopin
cc