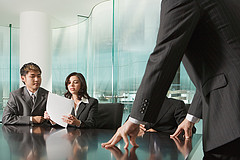 The media and the public (not sure which drove which) have become frenzied over executive compensation, making broad-brush examples out of a few outliers. It is time to settle down and realize the importance of a proper balance between what is actually "bad" and what is not. Legislation and regulation are not the answer. We need careful analysis, decision making and the willingness to act on behalf of both employees and the organization.
Compensation of senior executives, especially the chief executive officer of an organization, whether for profit or not for profit, rests with the Board of Directors. Period! Observation over time shows that there is a wide disparity in how this is done. Sometimes the process (when there is one), goes before the full board. Other times it is a compensation committee that makes a recommendation to the full board or implements a decision, depending on what authority has been specifically granted by the board or the organization's bylaws. Occasionally, the old method of the board Chair making and implementing the decision remains. For the most part, none of this is affected by law or regulation.
On the for-profit side, the public corporation faces scrutiny from its shareholders and the media, with an occasional regulator or activist group stirring the pot. The closely held organization answers to shareholders, partners and investors with a regulator involved, depending on the industry.
On the nonprofit side, the actions of the board take place in an uncomfortable fishbowl with the eyes of the Internal Revenue Service, state attorneys general, the public, the media, beneficiaries and donors all looking at compensation for good reasons – and bad.
In some states, regulations concerning executive compensation in nonprofits are being adopted, creating a "big brother" approach to how boards determine compensation for top executives. Not only is this intrusive, but it handcuffs organizations that need to hire top talent to accomplish their missions. In addition, it is another layer of compliance that takes valuable time and resources.
Boards need to come to terms with their obligation to all employees and, because of the current spotlight, especially to executives. The needs of the organization must be at the forefront, and disclosure and regulation should not be obstacles that prevent boards from hiring the right executive at the right compensation level and mix, whether it is cash for salary and performance, retirement benefits such as deferred compensation and supplemental retirement plans or perquisites – as long as they are competitive and reasonable in context.
If a board gets buried in average pay based on surveys, the people it hires will be average, and so will the organization's results. Establishment of a strong compensation policy and process – and adherence to them – provides a board with the tools and direction it needs to develop and implement a high-quality program that will attract top-notch talent.
If you would like more information on this subject, or have a client who might benefit from a
discussion about it, please contact Barry Koslow at bkoslow@mkaplanners.com or (781) 939-6050.
Securities offered through Advisory Group Equity Services, Ltd., Member FINRA/SIPC. 444 Washington Street, Woburn, MA 01801 (781) 933-6100.
This article should not be considered as providing accounting, business, financial, investment, legal, tax, or other professional advice or services. It is not a substitute for such professional advice or services, nor should it be used as the basis for any decisions or actions that may affect your business or you personally. This should only be one part of your research. You should seek authoritative guidance from a qualified accountant or attorney before taking any action.
© MKA Executive Planners, 12 Gill Street, Suite 5600, Woburn, MA 01801 800-332-2115