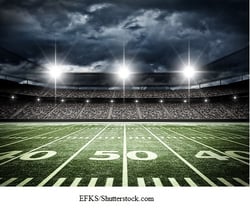 According to news reports, New York Giants star receiver Odell Beckham, Jr., is thinking about purchasing a $100 million (yup, $100,000,000) policy to protect the value of his earning potential in the event he is injured and cannot earn pay at his current ability level. The importance of this was brought home when he sprained an ankle at a recent pre-season game.
Now, you and I might not have earning potential at that level, but whatever level it's at, it should be protected.
MKA has provided this protection for those in all types of careers. We've covered professional basketball and baseball players, entertainers, nationally known attorneys and brain surgeons.
Just as important, we have protected business owners, physicians, attorneys, accountants, consultants and other regular folks over the past 50 years.
It is approximately six times more likely that an individual will have a disability lasting more than 90 days than that individual will die before age 65.
How long can you go before your reserve cash and other liquid assets run out if you cannot work? If you own a business and have continuing expenses, how long can the business function on its reserves?
Disability protection programs should not come off the shelf. They should be tailored to each situation. Protection can cover (as needed) payroll, office rent, office mortgage payments, hiring temporary replacement professionals, business loans and other obligations.
While the star athlete and big numbers make the headlines, it is the rest of us who need to protect against the same day to day risk. Ask yourself, "What happens if I can't earn money to take care of myself, my family, or my business or practice?"
Hopefully, Beckham's ankle will heal quickly. If not, he might wish he had talked with someone at MKA.
If you would like more information on this subject, or have a client who might benefit from a discussion about it, please contact Barry Koslow at bkoslow@mkaplanners.com or (781) 939-6050.
Securities offered through Advisory Group Equity Services, Ltd., Member FINRA/SIPC. 444 Washington Street, Suite 407, Woburn, MA 01801 (781)933-6100. Advisory services offered by Trust Advisory Group, Ltd., a Registered Investment Advisor.
This article should not be considered as providing accounting, business, financial, investment, legal, tax, or other professional advice or services. It is not a substitute for such professional advice or services, nor should it be used as the basis for any decisions or actions that may affect your business or you personally. This should only be one part of your research. You should seek authoritative guidance from a qualified accountant or attorney before taking any action.
© MKA Executive Planners, 12 Gill Street, Suite 1050, Woburn, MA 01801 800-332-2115